Structural timber solutionsfor all components
CLTPLUS, glued laminated timber with prefabrication service
Walls, ceilings and roofs
High-tech timber construction solution fulfilling all requirements
Together, CLTPLUS and cross-laminated timber are an unbeatable team. Theurl offers both products as a complete system from a single source. In this way, interfaces can be optimally coordinated from as early on as in the planning phase, and nothing is in the way of the millimetre-precision connection of the components. This leads to high-tech complete timber construction solutions which are technically and economically convincing. We offer our customers one timber construction solution – from technical knowledge anddesign to production and logistics. The shared willingness to shift the limits of the feasible makes us a strong industrial partner for timber construction.
+
1 point of contact
philosophy
CLTPLUS
Cross Laminated Timber by Theurl
The future begins with CLTPLUS
Energy-efficient, durable, recyclable, extremely resistant and CO2 neutral: Could a construction material be any more versatile? At least three layers of cross-laminated board make CLT an almost universally applicable, particularly stable product: the large-format solid wood CLT boards are used to form wall, ceiling or roof elements. The high level of pre-fabrication permits short construction times without drying phases. CLT in a quality that does not require masking also creates a comfortable atmosphere and high room quality.
Allgemeininformation general folder
Produkt, Service und Technische Daten technical folder
One product -many benefits
CLTPLUS
Cross Laminated Timber by THEURL
More than standard, clever solutions
The challenging living conditions in the mountains strengthen the resilience of the spruces. Spruce wood is therefore the perfect material for our glued laminated timber production. Easy workability and high strength are the key characteristics and qualities of glued laminated timber.
+
1 point of
contact philosophy
ORDER-RELATED JUST-IN-TIME PRODUCTION
THEURL glued laminated timber is made of at least two lamellas. The load capacity is much greater than that of conventional timber, due to the layered structure. Another quality characteristic is the selected knotless wood, which is glued parallel to the fi bre and planed on four sides, resulting in aesthetically pleasing functional components. The automatic testing of each individual lamella is standard. The exact strength class is determined by the Microtec GOLDENEYE, pursuant to Önorm EN 14081-1.
Theurl guarantees the highest quality.
THEURL produces ready-to-fit glue laminated timber. Dimensional accuracy and perfect surfaces help to reduce construction time and costs.
Produktkatalog Products
Your plan, our precision
Anything is possible. There is a solution for everything – even the most complex wooden structure. We convert your project into impressive, high-quality CNC components. State-of-the-art processing machines cut wood into any shape quickly and precisely. Together with our customers, we are aiming to take timber construction into a new dimension.
EVERYTHING UNDER ONE ROOF
With computer-assisted manufacturing, THEURL meets the highest precision and quality requirements of modern timber construction. In our assembly facilities, we carefully and expertly produce individual wooden structures measuring up to 18 m in length and 1.25 m in height. The years of experience of our employees and the high precision of the three joinery machines play an important role in this. They guarantee sustainable customer service. Specifically, everything from the realisation of the design as ready-to-install and millimetre- accurate components, to the quality control at the end of processing, is covered.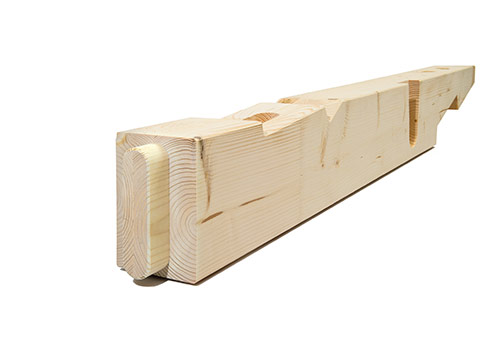 The joinery service - a quantum leap!
Our joinery service centre combines traditional manual work with modern technology. It serves as an interface through which we can fully meet the needs and requirements of our customers. Initial consultation: Your project is accepted, a plan is drafted, and the costs are calculated. The wooden components then take shape in the joinery station. The state-of-the-art joinery station allows millimetre-precise production in no time. This enables a high degree of fl exibility thanks to fast and optimal construction while keeping to the deadlines, as well as through calculable cost savings and top-quality construction elements.
Produktkatalog Products
nature refined, visible elegance
In our planing mill, state-of-the-art technology is used to process the planed timber, form boards, strip flooring and sawn timber. A powerful planing machine smooths rough spruce and larch boards, and brings the wonderful fine-grain wood structures to light.
planed products
Only monitored, pre-sorted sawn timber of the best quality is processed in our planing mill. The most fi nely-tuned planing heads refi ne natural products, and reveal the true beauty of the wood grain. Fine-fi bred planed items with smooth surfaces, which meet the highest design requirements both inside and outside
Produktkatalog Products
precise cutting, wide range of products
The spruce, which is insensitive to cold, is an essential Alpine tree, and the ideal construction material. It is felled, cut, trimmed, debarked and measured, and then cut in our sawmill into square timber, slats, or narrow / wide / prismatic sawn wood. We meet individual customer needs in the shortest possible time, and to the expected quality.
sawn timber
Sawn timber is shaped round timber. Fine-grained Alpine spruce wood is cut parallel to the trunk axis. This, and the careful drying, guarantee wood products of perfect shape for every application. The fi nal inspection is carried out by highly-experienced employees, who sort the sawn timber into quality classes.
Produktkatalog Products