Three locations, one company
Timber construction solutions from a single source
Tyrolean reliablity, along with first-class service
Our passion and our products make THEURL unique – worldwide. We appreciate our staff as they make our company that little bit better every single day. THEURL is not just a family-run business, THEURL is a family. Rooted in the region, we know what potential our trees have. We obtain this treasure every day and produce high quality, high-tech products from these natural raw materials. With our projects, we glance into the future of construction. Clients obtain a timber construction solution from a single source – in an ideal combination of laminated timber, CLTPLUS and prefabrication services. We want our customers to benefit from our expertise. We place great importance on the utmost transparency when dealing with our clients. Not to mention, the new generation should also benefit from THEURL expertise. We train young people to become highly-skilled specialists, enabling them to carry on our passion into the next generation. Or, in short – we have a heart of wood!
Brüder Theurl GmbH can look back on a company history stretching back over 90 years
We can look back on a long history of timber construction with many faces. As a result, we aim to carry on this spirit of previous generations: We therefore constantly keep our finger on the pulse and are responsible for many innovations within timber construction.
THEURL guarantees the highest levels of quality. We place great store on exceptional advice for our clients. Combined with sustainable, quality products, these are key to our success. Our capital is our staff, along with their knowledge and experience – we face every challenge together in a reliable, resource-saving, and solution-oriented manner.
Round timber center
The timber from our region, around 100 kilometres from our location at most, is the "gold" within our round timber center. Local logistics companies bring the raw materials along for processing. Processing requires an accurate approach, combined with the use of state-of-the-art technology. Pure force meets precise data – our systems have to be durable to ensure reliable and transparent settlement.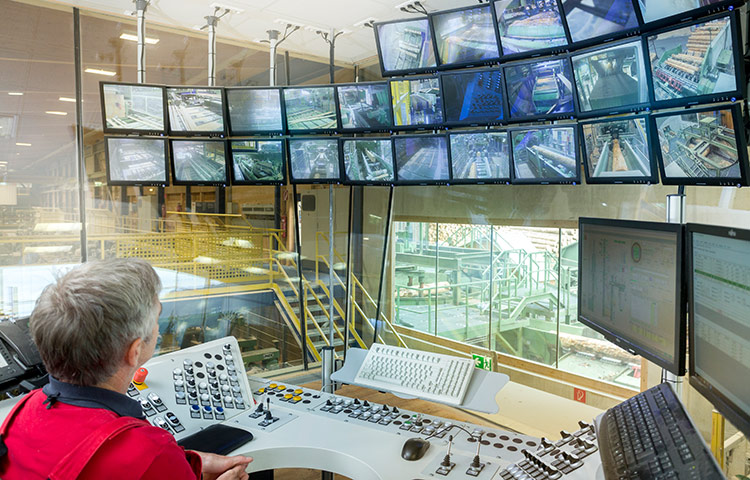 The sawmill
Up-to-date equipment enables us to quickly and accurately produce the necessary goods for our clients as well as for further in-house processing. With a total volume of 450,000 cubic metres, we are one of the leading sawmills in Austria.
Planing mill
Tailored production and exceptional surface quality come as standard from our planing mill. Perfect preparation for external and internal formwork, production of floors in all thicknesses, dimensions, and qualities speaks for the excellence of our planed goods.
We provide exceptional quality along with a sustainable concept
Using timber in its entire range of applications
Bioenergy
We have been supplying our units with energy from an in-house biomass plant since 2005. We use the CO2-neutral circulation of timber usage from the wood to energy generation. This cycle manifests our concept of sustainability and environmental compatibility.
Theurl Holzindustrie GmbH
Our expertise and decades of experience get the very best out of timber
as a building material. Close collaboration with our clients is therefore a fundamental basis of successful production. Timely delivery ensures that construction projects run smoothly for our clients. Our extensive in-house production monitoring ensures that our products always satisfy the demands expected of them.
Service at the highest level
We implement your projects
Joinery services center
Our joinery services center contains the most refined products. We always have our objectives in our sights: We aim to give our clients in the timber construction and carpentry sectors the chance to carry out an extremely wide range of projects. This is how we support them.
Laminated timber plant
Only the finest quality raw materials from our sawmill ensure a top-quality end product. Our range of logs provides many different strength classes and dimensions. State-of-the-art systems produce 95,000 m³ annually in a three-shift operation.
Theurl Timber Structures GmbH
A new location for new products
Theurl Timber Structures GmbH, which was founded for CLTPLUS production, extends our company's value-creation chain. At this location we produce the most effective construction material that timber can currently offer. Cross laminated timber at our plant become an extremely durable, efficient, and lightweight construction material. This is produced by around 150 staff at our Steinfeld site.
Project Steinfeld
We produce exceptional quality cross laminated timber at our new Steinfeld site. Highly automated production facilities bind at least three crossed board layers to each other, resulting in an extremely durable high-end product. Our CLTPLUS technology also has the THEURL Inside code which permanently identifies every component. This project was co-financed by the European Regional Development Fund. Further information regarding IGJ/ERDF can be found at www.efre.gv.at.
CLTPLUS – high-performance material with great potential
Economical, highly precise, long-term value
Joinery services center
We produce CLTPLUS components according to client specifications, and the dimensional accuracy and precision involved means work on construction sites is accelerated and simplified. A wide range of dimensions means that structures can be designed in line with client specifications. Our clients appreciate our order-related "just-in-time" production methods.