With its imposing dimensions of 200 by 80 metres, this would be difficult to achieve anyway – and would be a shame for a showcase project that perfectly blends into the alpine landscape. The architects at ATP drew inspiration from nature for the design of the modern premises for the grinding shop and tool shop: while the stone base is reminiscent of massive mountain slopes, the permeable façade with its wooden elements is reminiscent of a tree-lined clearing in the forest.

THEURL supplied 2,350 m³ of glulam for the innovative industrial building – mainly used in the slab area – and 2,430 CLTPLUS in the form of smartly designed slab elements. The client, CERATIZIT, dealt with the project in an extremely uncomplicated manner, even though delivery to the construction site proved to be rather complex throughout the course of the year due to the shuttle traffic that had been set up. Thanks to the efforts of everyone involved, the building was completed at the end of 2022 despite some delays due to bad weather phases including large amounts of rain and snow. The high proportion of wood makes the building appear open and inviting, but the choice of materials should also be perceived as a commitment to the region.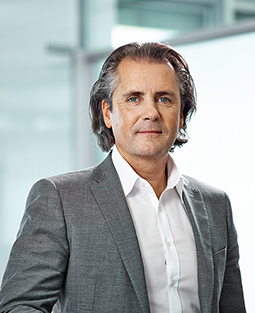 Robert Kelca , GE, Architect, Balteschwiler AG
In your opinion, what makes wood the perfect construction material for production buildings?
"The domestic construction material wood is particularly sustainable: It can be used on a modular basis, has a high degree of prefabrication, allows great flexibility for subsequent changes to the building and, above all, is reusable. All in all, this helps to reduce grey emissions and thus improve the CO2 balance. In addition, wood creates a pleasant working atmosphere for the occupants."